The Focus Hotels network, which belongs to the IMMOBILE S.A. Group, focuses on developing of its own sales channels. That's why it launched a new modern website and the Central Reservation Department.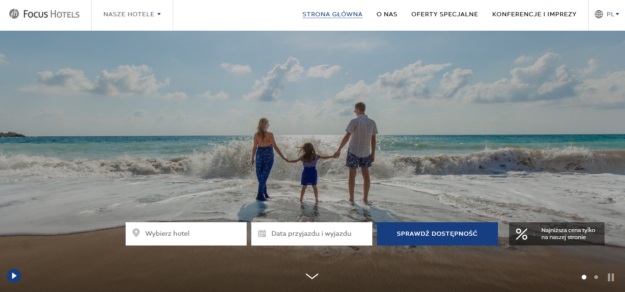 The new Focus Hotels website is characterized by a modern graphic design, a simplified and transparent layout and unique functionality of the entire website. The site allows users to move around the site map in a very intuitive way. Guests will now find faster information on Focus Hotels, amenities and promotions offered, as well as the location of individual facilities.
The website has been designed in the RWD (Responsive Web Design) technology, so it can be easily viewed on mobile devices such as a smartphone or tablet.
With the implementation of the new website, the Focus Hotels network has launched the Central Reservation Department, which is to provide the highest level of service for each guest. Thanks to this, customers calling one phone number can make reservations at any of the 11 Focus hotels in Poland.
Focus Hotels S.A. to polska sieć miejskich hoteli biznesowych, należąca do Grupy Kapitałowej IMMOBILE z siedzibą w Bydgoszczy. Należy do niej obecnie jedenaście obiektów: dwa w Gdańsku i Bydgoszczy oraz po jednym w Sopocie, Szczecinie, Poznaniu, Inowrocławiu, Łodzi, Chorzowie i Lublinie. Pięć z nich działa pod marką Focus Premium. Kolejne hotele sieci powstają w Warszawie, Bydgoszczy i Szczecinie.
Focus Hotels S.A. is a Polish network of urban business hotels, belonging to Grupa Kapitałowa IMMOBILE with its registered office in Bydgoszcz. Eleven objects of the chain are located in Gdańsk (2), Bydgoszcz (2) and in Sopot, Szczecin, Poznań, Inowrocław, Łódź, Chorzów and Lublin. Five of them operate under the Focus Premium brand. New network hotels are currently being created in Warsaw, Bydgoszcz and Szczecin.